In this episode, we talk to Michael Marshall. Michael is the project director for the Good Thinking Society and the Vice President of the Merseyside Skeptics Society. He recently spoke in Sofia about the campaign against NHS homeopathy funding his team organized.
In this episode you'll hear us discuss:
How can we promote rational thinking in the media by abiding to the narrative needs of journalists
What can skeptics do to make their events more inclusive?
What are the weirdest beliefs Michael has heard on his podcast "Be Reasonable"?
Listen to this talk about public policy, flat and hollow earth, and the Venusian ships Nazis used.
We want to thank our sponsors from SBTech – you can learn more about them at sbtech.com/careers
If you like the podcast, you can support us at patreon.com/ratiobg
About our guest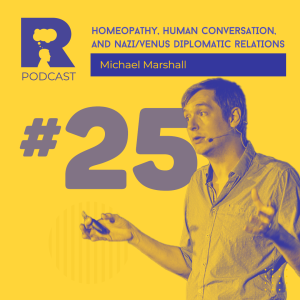 Michael Marshall is the Project Director of the Good Thinking Society and the Vice President of the Merseyside Skeptics Society. He regularly speaks with proponents of pseudoscience for the Be Reasonable podcast. Since 2012, the Good Thinking Society has been challenging the acceptance of pseudoscience across the UK and has had numerous victories, including their campaign against NHS homeopathy funding; securing a review of the legality of charities that promote pseudoscience; putting the issue of homeopathic vets on the agenda of the Royal College of Veterinary Surgeons; highlighting university institutions who hire facilities to house quackery; publishing exposés of pseudoscience in the media and challenging false balance on issues of scientific consensus.
Michael came to Sofia for the event "Ratio presents: Fighting Medical Pseudoscience".
About the podcast
Ratio Podcast is a program for intellectually curious people. We're having informal conversations, connected with or inspired by science. Bear in mind, we're not experts on basically anything – but thankfully most of our guests are.
You can check out more episodes via RSS, in Stitcher, iTunes, Google Podcasts, Spotify and SoundCloud. Most episodes are in Bulgarian, but we do interviews with international guests, as well.